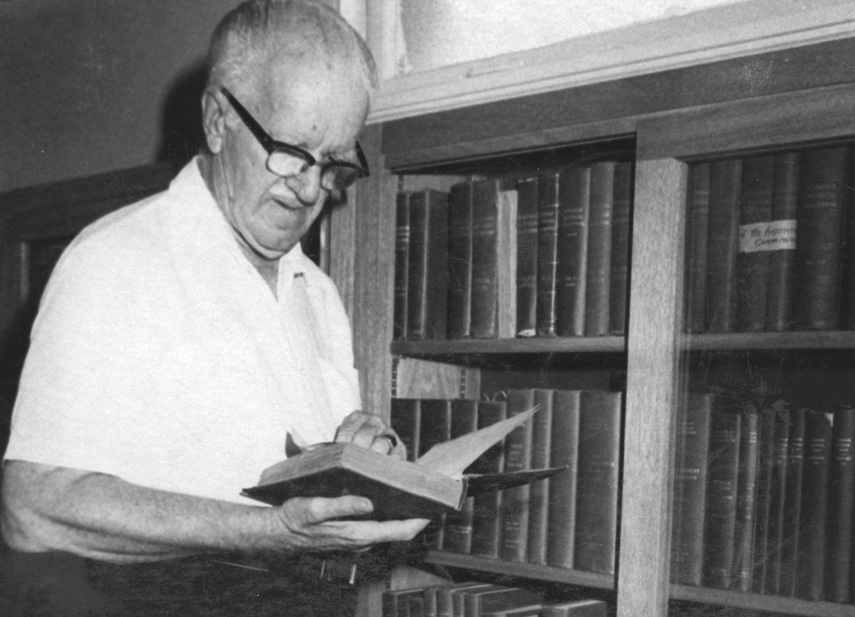 In 1980, Robert Neal (1906-1983) donated his extensive collection of photographs, maps, books, and historically important documents and records to the Mineral Point Public Library. Mr. Neal was a Mineral Point native and had been collecting historical material pertaining to the "Lead Region" for several decades. He is best known as the co-founder, with Edgar Hellum, of Pendarvis, now a Wisconsin Historic site in Mineral Point. Mr. Neal's collections followed an earlier donation in 1964 by Owen Benton Jones of 136 letters written from 1902 to 1924, between President Woodrow Wilson and two Mineral Point brothers, David Benton Jones and Thomas Davis Jones. The three men were classmates at Princeton. The two collections became the foundation of the "Mineral Point Room".
These collections were quickly supplemented by additional gifts of photographs, family histories and a wide range of historically significant documents and records. Included in the subsequent acquisitions were microfilm of Mineral Point newspapers, the television personality Allen Ludden Papers, the Civil War Letters and Diaries of Sidney Shepard, the Women's Club Records (founders of the Library), oral histories, maps, and architectural plans. Historically and culturally important material continue to be added to the Archives' holdings.
The mission of the Mineral Point Library Archives is to collect, preserve and organize documents, records, photographs and media that are of enduring historical and cultural value in order to assist all manner of researchers and tell the story of Mineral Point. The Mineral Point Library Archives is also the designated repository for records of permanent value of the City of Mineral Point and the curator of the Mineral Point Library Art Collection.
Over the years, the Mineral Point Public Library has acquired an exemplary collection of art by Mineral Point artists. This collection is curated by the staff of the Mineral Point Library Archives. It is available for viewing free of charge throughout the Mineral Point Library.
In 2012, the municipal building, including the Library, was extensively renovated. The "Mineral Point Room" contents were moved to the former City Council Chambers on the top floor of the building and renamed the Mineral Point Library Archives. The room retains its handsome architectural features and is an excellent facility to preserve the collections and serve the needs of researchers.