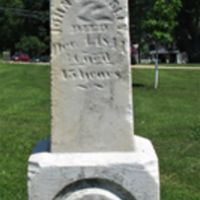 Ansley, John D.
Death
1844-12-01 (aged 47 years)
Birth
1797
St Johns, Canada
Biography
Find A Grave
John Ansley was the first local Postmaster in the Mineral Point area. John D. Ansley was the son of Thomas and Mary (Scott) Ansley. He was born in Canada. Ansley is said to have been married but left no family. He is mentioned in his father's letters as of a roving disposition and as spending part of his life at sea. In 1829 he went to Mineral Point, Wisconsin and became a prominent man in the territory of Wisconsin, being known as Col. Ansley. The last record of his activities is of a trip to England to finance his mining operations.
Source: "
Our Ansley Family
" by Harold Ansley Davidson, 1933, p. 16.
Wisconsin Dictionary of History
In 1829 he was a resident of Mineral Point where he owned a dry-goods store and a copper mine three miles to the south. In 1835 and 1836 he was smelting ore that assayed as much as 20 to 30 per cent copper and was bringing high prices in Boston. Encouraged by his prospects, he obtained capital investors in Pennsylvania. Adverse reports by George W. Featherstonhaugh, however, resulted in his backers having him jailed for fraud. He next sought capital in England but again Featherstonhaugh's reports prevented consummation of his plans. His mine was incorporated in the Iowa Copper Company in 1844.
J. Schafer, Wis. Lead Region (Madison, 1932); Mineral Point Miner's Free Press, June 4, 1839